monitorACT | Edition16
19.12.22
ACT
Editorial
Welcome to the 16th edition of Monitor ACT, which may initially seem repetitive, due to the presence of the name of a multinational company, which also happens to be the world's number 1 plastic polluter, appears in three out of the four articles and only managed to escape from one of the analyses because the author decided to address the subject of sponsorship by alcoholic beverage and tobacco companies in the World Cup. Can you guess who the company is? Click here to find out.
That's right. If you thought Coca-Cola, you guessed correctly.
The fact is that while setting up the agenda for this, our current edition, we clearly realize, which makes it all the more staggering, how far the major ultra-processed food manufacturers are embedded into main world events, and in our lives, in a certain way. It is no wonder that we are falling ill, physically and mentally, besides running the risk of seeing the planet getting devastated by all types of destruction and seeing the onset of further pandemics.
In the opening article of this edition of Monitor ACT, Bruna Kulik Hassan asks if we will need a magnifying glass to find the new magnifying glasses on food labels. She uses irony to explain how sweetened beverage manufacturers are trying to puch back the moment when it will be made clear to the consumer that their products have a high sugar, sodium and saturated fat content. At the same time that they try to postpone the standard approved by the Brazilian National Health Surveillance Agency after intense debating, companies are investing in so-called recycling programs with the intention of clearing up their image in the environmental realm.
Next, Marília Albiero and Laura Cury traveled through subway stations on the city of São Paulo Metro system to write about naming rights, in an update to a text written one year ago. They observed that if trains have not become more comfortable, more punctual and providing better service for passengers, at least marketing campaigns for ultra-processed products and medicines are much more efficient: many stations are now displaying the names of product brands and the advertisements overflow in all directions.
In the third article, Laura Cury analyses the Climate Conference, held in November in Egypt, displaying a sponsor which shocked the world: none other than Coca-Cola, once again. The investment made by the company, whose products are associated to the increase in chronic non-communicable diseases and the pollution of the planet, generated one of the best criticisms, made by a Nigerian activist: if you want to fight malaria, you mustn't invite the mosquitoes.
Sponsors at the World Cup are no less of a problem, which served as a starting point for Mariana Pinho to analyze the billion dollar investments by companies that manufacture harmful products in sporting events and their everpresent promotion strategies. In order to deconstruct this type of marketing and the problems it causes, we need proven efficient public policies.
For that reason, we sincerely hope that as of 2023 corporations take on real commitments with sustainability and health: by paying their taxes, complying with the law and not taking part in lobbying campaigns to avoid regulation.
Enjoy your reading!
Anna Monteiro
Communications Director
---
Will we need a magnifying glass to find the new magnifying glass on food labels?
Bruna Kulik Hassan
The Brazilian National Health Surveillance Agency established, through Collegiate Directorate resolution 429 and Normative Ruling nº 75, the inclusion of information on the front of food packages, in the shape of a magnifying glass, warning about high levels of added sugar, sodium and saturated fat. If the products contain these ingredients in levels above the limit stipulated by Anvisa, the package may display one, two or three magnifying glasses, indicating thay are "high in" a specific item. The standard excludes fresh and minimally processed foods as well as cooking ingredients – such as sugar and flour – and includes processed and ultra-processed products, including sweetened beverages, jams, candy/sweets, ice cream and biscuits/cookies.
Source: ANVISA Website
Changes were also established for the nutritional labelling on foods. One important change is the improvement of nutrition tables, which are located on the back of the package and detail the foods' nutritional contents. In addition to the change in format, with a minimum font size, white background and black letters, the tables will necessarily include the nutrient amounts per 100 grams. This represents an advance, because it facilitates the comparison of amounts with any type of food. Previously, the information was presented per portion of food, which could mislead consumers into very small portions, which do not correspond to real consumption, or make it difficult to understand how many portions would need to be calculated. With regard to content, consumers now have access to more information with the mandatory inclusion of data on sugar quantity, which was previously optional.
Source: ANVISA Website
Although the new frontal and nutritional labels came into effect on October 9th, it is still difficult to find labels with magnifying glasses on supermarket shelves. There is a reason for this: the foods that were produced up to October 8th can be sold without complying with the new rules, according to which products which are already on the market can be marketed following the previous standard, with an additional year to adapt.
The deadline set by Anvisa is long, because it adds a further two years' vacatio legis to the year of adjustment for the implementation of the standard, enacted on October 8, 2020. Foods produced by small producers and beverages in returnable packaging will have yet more time to adapt. There is a justification for a longer deadline when we think of sustainability and difficulty to adapt. We know, however, that companies belonging to international conglomerates change their labels for any promotional event with absurd ease. For non-alcoholic beverages packed in returnable packages, product adaptation has a 36-month deadline after the resolution comes into effect. In other words, only in 2025 will all these products have to comply with the new labelling rules.
Anyone who thinks that few products in returnable packages would be affected by the standard would be mistaken. Coincidentally or not, some companies are already establishing the exchange of conventional PET bottles for a returnable PET system, based on commitments with the circular economy. In the case of Coca-Cola Brasil, there are currently 290ml, 1000ml and 1250ml returnable glass bottles and 1000ml, 1500ml and 2000ml returnable PET bottles.
Source: Coca-Cola Brasil Website
The Coca-Cola Company announced in 2018 their target of sending all bottles and cans sold for collection and recycling by 2030, as part of the "World without Waste" initiative. In 2020 the company became one of the signatories to the global circular economy pact, along with other global companies, committing themselves to readjusting their waste management. According to the company itself, "the goals include expanding recyclable products to all packaging, the incorporation of at least 25% recycled material to the company's PET packages by 2025 and achieving correct disposal for 100% of packages placed on the market by 2030".
Source: Coca-Cola Brasil Website
As announced by Coca-Cola Company CEO James Quincey, returnable packages are part of the brand's strategies to reduce the prices of its beverages, because consumers get a refund on returned bottles and cans. In addition, consumers pay more for the bottle on the first purchase, but as from the second purchase they pay only for the beverage, which brings down the price of the product purchased. Coca-Cola has started using "universal bottles", which are PET bottles which can be filled with all the brand's products, such as Coke, Fanta, Guaraná and more recently the Del Valle orange and grape juices, its flagship products. To create the universal bottles, Coca-Cola Brasil invested around R$ 100 million. According to a report by Meio e Mensagem, senior Cone Sur Communications director Daniela Valverde presents the theme suggesting that the brand is "good for your pocket, good for the planet" as the communication motto.
Being relatively quick to change its packaging in order to reinforce its image of commitment to sustainability, the brand could also show agility in changing its labels, since it would show concern for its consumers' right to information.
The company, however, shows no signs of commitment to information, or even to health. Argentina recently enacted the Healthy Food Promotion Act (Law 27.642) which among its actions includes front label warnings in the shape of white-edged black octagons with white capital letters spelling the word "EXCESS", using cutoff points for nutrients from the Pan-American Health Organization's nutritional profiling system. Coca-Cola acted in defiance of the newly implemented standard by including the octagons on the back of the package, where its brand is displayed in a smaller size compared to the front of the package. Since the standard holds the entire production chain responsible, this act does not only impact Coca-Cola: retailers are also penalized if they position these beverages on the gondola showing the front of the package, which has been left without the warning, because they are required to show the warnings on the gondolas.
In the case of Argentina, Coca-Cola went further: with the start of the World Cup, the company included a special edition of its front label with a football with an octagon design and produced a package with picture cards of World Cup players, creating a promotional action by marketing returnable bottles at different points in the city of Buenos Aires, again in defiance of the standard, which limits any promotional action for products featuring octagons.
For the time being, all we can do is wait, monitor and expose what companies such as Coca-Cola will do for their labels not to contain the magnifying glass during this long adjustment period for the new food labeling rules in Brazil.
Source: Sanar Nutrition Website
---
Next Stop: [Name of your company] - Part II
Laura Cury
Marília Albiero
In June of last year, we published an article with the title Next Stop: [Name of your company], which approached the topic of naming rights and the case of Botafogo subway station, in Rio de Janeiro, which since 2021 had undergone an identity change by calling itself Botafogo-Coca-Cola. The traditional Rio neighborhood thus gained a station with the name of a beverage associated to obesity and diabetes, which contributes towards several other diseases and is the biggest plastic polluter on the planet. The contract with Coca-Cola ended recently and the name went back to being just Botafogo Station.
In the title of that first article we already warned that that would be but the first step, and that other examples – or rather, other stations – would follow. We asked: "what will be the next stop? Imagine Presidente Vargas station being called Souza Cruz or BAT Station(...). Or in a dystopian example from São Paulo, a station called Cambuci-Ambev or Pinheiros-Monsanto?" Well, that is what actually happened.
Also in late 2021, a station on the Red Line, in São Paulo city's Eastern Zone, was the first to be changed by a naming rights agreement signed by the São Paulo Metro system. Its name was changed to "Carrão-Assaí Atacadista" ["Assaí Wholesaler Wagon"]. The change included announcements on trains, informing passengers of the new name, changes to maps throughout the whole network, and even the totem signs at station access points, which now include the name and logo of the wholesaler.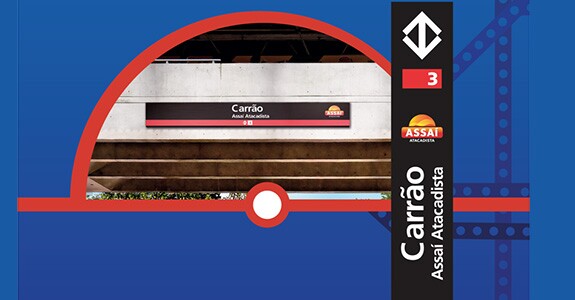 The station was chosen by Assaí because it identifies with the region. According to a company spokesperson, the concession aims to pay tribute to the Eastern Zone and reinforce the origins of the wholesale supermarket chain.
The naming rights issue on the São Paulo subway system didn't stop there. In early 2022, it was the turn of Saúde ["Health"] station, on the Blue Line, to be named "Saúde-Ultrafarma". Just as with Carrão-Assaí, the choice of the station whose name was given to Ultrafarma was due to its proximity to the first branch of the pharmacy chain, set up in the Saúde region 22 years ago. And definitely because it was appropriate to link the name of the pharmacy chain to "Saúde".
And what's wrong with linking a chain of wholesalers, pharmacies and a soft drink to health (not just the neighborhood, but the concept), of all things? According to the World Health Organization (WHO) definition, health is "a state of complete physical, mental and social well-being and not just the absence of diseases and infirmity". The association of collective and public good with ultra-processed products, which are harmful to health, and with pharmaceuticals, which although essential, serve to cure a situation which is already established, the subway system is not contributing in any way to the prevention and promotion of health and well-being of the population.
According to the São Paulo metro/subway system, the concession of station names would help to increase non-fare revenue, which includes commercial and advertising exploration of the stations, as well as land and real estate leasing. Although benefits for the population are not perceived, the strategy has been gaining new support and has become an integral part of political tools for neoliberal urbanism.
Problems are not restricted to the theoretical or "philosophical" perspective on the practice of naming rights, which as we have seen, do not always connect values destined to improve conditions for the population, or even the asset itself. This commercialization process also implies problems of a practical order, since many best practice recommendations are often not followed, such as mandatory bidding processes, isonomy of treatment among potential interested parties and transparency in selection criteria.
And there are plenty of options. In São Paulo, in addition to Carrão and Saúde, exploration and branding rights at Penha and Anhangabaú (Red Line) and Brigadeiro and Consolação (Green Line) stations are also under negotiation. It would, however, be more interesting – and effective – if the government were to promote adequate and increased selected taxation for products that were harmful to people's health and to the environment. This would allow for the collection of necessary resources to be reinvested in strategic areas such as health and public transport, for example. With the Tax Reform, which should come back to the scene in 2023, this could in every sense be a far more conscious and sustainable option.
In addition to naming rights, we have also seen yet more advertising, with train carriages full of stickers and posters ostensibly advertising noodles, beer and other unhealthy products.
May we literally and metaphorically tread new paths in 2023, and truly promote the health and well-being of the population.
---
COP 27: People, not polluters
Laura Cury
One year ago, we wrote about the Climate Change Conference of the Parties in two MonitorACT articles and here we are, back again, discussing the pressure exerted by Big Industry at COP27 and the conflicts of interest involved.
Phillip Jakpor, a Nigerian climate activist from Public Participation Africa, summed up the latent contradiction represented by the large presence of fossil fuel industry lobbyists at this year's event by stating that "If you want to fight malaria, you mustn't invite the mosquitoes". Jakpor used a metaphor related to an infectious disease, a category which has historically received more attention and resources than its counterpart, chronic non-communicable diseases (CNCDs), which despite being the leading cause of premature deaths on the planet, represent less than 10% of the global health budget. Still within the proposed metaphor, it is worth considering that similarly to infectious diseases, CNCDs also have a vector, which is not, as in the case of malaria, a mosquito, but companies which produce and market products that are not good for the health of people and the environment. We are talking about the tobacco, ultra-processed food, alcoholic beverage, agrochemical and fossil fuel industries.
As it happens, many of these so-called "vectors" were invited to COP27. The number of representatives from the oil, gas and coal industry jumped from 503 last year to 636 this year, according to a report produced by the Global Witness organization, in a partnership with Corporate Accountability and the Corporate Europe Observatory. In comparison to all the delegations present at the conference, the team of 636 lobbyists was second only to the delegation from the United Arab Emirates, which had 1.070 members, 70 of whom were identified as corporate representatives. According to the report, of the total number of national delegations, 29 had lobbyists among their members. This total outnumbered the delegations from the 10 countries most impacted by climate change combined: Myanmar, Haiti, Philippines, Mozambique, Bahamas, Bangladesh, Pakistan, Thailand, Nepal and Puerto Rico. The fossil fuel lobby also had twice the amount of representatives as indigenous peoples, identified as the biggest preservers of forests and native vegetation.
Civil society organizations and activists questioned the presence of lobbyists. Posters, interventions and actions on social media, with the hashtag #PeopleNotPolluters, set the tone for the demonstrations. For Global Witness and partner organizations, participation by fossil fuel industry lobbyists at COPs should be banned, in a way "similar to the restriction imposed on tobacco industry lobbyists in public health agendas".
There were also demonstrations questioning the fact that the group of sponsors at COP27 included names such as Coca-Cola, IBM, Microsoft, Vodafone, EgyptAir and Boston Consulting Group. The question posed by Época Negócios magazine is worth thinking about: "what are the sponsors of the climate conference doing for the environment?" Unfortunately, the evidence points out, much less than necessary.
Thus, several civil society organizations and movements as well as Universities, from Brazil and beyond, coordinated by an ACT Promoção da Saúde and GT A2030 initiative, repudiated the sponsorship of the event by the Coca-Cola System, formed by 200 polluting brands, which would represent an obstacle to the fulfillment of the Paris Agreement, COP27 itself and even the Sustainable Development Goals (SDGs). This manifest was sent to the advisory group of the newly elected government that will take office in January 2023.
The practices and business models of industries that manufacture products which are harmful to people's health and to the planet, such as sweetened beverages, directly impact the achievement of SDG 3 (health and well-being). It is worth mentioning that part of their production chains are involved in human rights violations, making it impossible to achieve SDGs 1 (no poverty), 2 (zero hunger and sustainable agriculture), 8 (decent work and economic growth), 10 (reduced inequalities) and 16 (peace, justice and strong institutions). They also generate polluting waste during the planting, manufacturing and disposal of products, impacting SDGs 6 (clean water and sanitation), 12 (responsible consumption and production), 13 (climate action), 14 (life below water) and 15 (life on land). Coca-Cola, specifically, produces over 200 thousand plastic bottles per minute from fossil fuels. That amounts to 12 million plastic bottles per hour being thrown into the environment, a product that takes an average 450 years to decompose.
It is also worth pointing out that companies that manufacture and sell unnecessary products which are harmful to people's health and to the environment affect more strongly the most vulnerable populations, who besides losing their health, compromise their income by purchasing such products. They are the ones who suffer the main consequences of the negative impacts caused by the production, commercialization and consumption of these products.
Major companies such as Coca Cola, despite advertising so-called "ESG practices", in actual fact contribute little towards the promotion of sustainable development. The sponsorship of COP27 by Coca Cola is therefore perceived as unacceptable and constitutes yet another "engaged" marketing strategy also known as greenwashing or SDGwashing.
In this regard, the example of Coca-Cola's World Without Waste program is emblematic: out of approximately 330 thousand items of waste collected in 2021 by Break Free From Plastic, a movement comprising over 11 thousand organizations in 50 countries, almost 20 thousand were from Coca-Cola products, considered by them to be the world's biggest plastic polluter. This shameful first place was reached "despite voluntary commitments, starting in 2018, to collect one bottle for every bottle sold". The Talking Trash report, meanwhile, points out that Coca-Cola had pledged that their bottles would be made with 25% recycled plastic as early as the 1990s, but has not to this day met that target. In the first quarter of 2022, Coca-Cola made a net profit of US$2.78 billion at the cost of immeasurable impacts on the environment and people's health, and the plastic the company produces is still a major source of pollution, not only because of the time it takes to decompose, but because its production and burning generate greenhouse gas emissions.
The manifest to which we refer states: the logic is perverse and we must not succumb to it. Coca-Cola profits from the sickness of people, animals and biomes and cannot continue to sell a socially and environmentally responsible image, even less so with the endorsement of the UN and governments around the world. It is therefore urgent for there to be transparency and the adoption of measures to protect the health of the population and of nature, in line with the 2030 Agenda and its Sustainable Development Goals.
"It is imperative that policies be formulated and implemented without interference by companies and with broad participation by society and the populations affected. Only then will it be possible to change practices that prevent the advance of sustainable development and the containment of climate urgency", the text adds.
---
Football is not to be discussed, but public policies are.
Mariana Pinho
You have most probably already planned your schedule for the days when Brazil plays in the 2022 World Cup. That's how Brazilians are: they love to see the ball rolling on the pitch, not to mention when it hits the back of the net... Football is not a subject for discussion, and that's ok. But when it comes to the greatest football championship in the world, Brazilians unite and get together to cheer the team on. The heart beats stronger by the moment, even more so when the sixth World Cup title awaits us. Those who were born after 2002 have not yet had the thrill of shouting "We won the cup!".
Since Brazil's fifth World Cup title, global public policies to fight chronic non-communicable diseases have saved hundreds of thousands of lives. It is worth remembering that they propose advertising restrictions for products that are harmful to health, the economy and the environment: tobacco, alcohol, sweetened beverages and ultra-processed foods. A truly great performance on the pitch. Even so, the major corporations never tire of entering the playing field and confronting them.
Thanks to the extensive scientific evidence accumulated over the years, we already know that smoking and drinking alcohol is bad for your health. The combination of the two is even more deadly. Thus, they do not go well with physical activity and sports.
Tobacco companies and breweries, not to mention soft drink and ultra-processed food companies, sponsor sporting events as a major strategy to promote their products. They use these spaces to reach out to people, especially youths, with their marketing messages. They distance themselves from the image of their products and associate themselves to messages of health, joy and winning. Their slogans spread beyond the football stadiums and enter our homes through TV and internet broadcasts. This way, the brands are disseminated and perpetuated. And in the metaverse, live scoreboards become NFTs, a promotional strategy by one of the championship's sponsors.
In Qatar, host country of the 2022 World Cup, fans will not be able to purchase and consume tobacco products and electronic cigarettes in football stadiums. This measure is fully aligned with WHO recommendations for tobacco-free mega-events. In recognition of the severe consequences of exposure to and consumption of tobacco products and electronic cigarettes, Fifa adopted a restrictive policy in 2017 for its events to be tobacco-free.
The same entity, however, seems to ignore the harms of alcohol consumption. Even in Qatar, a country with strict rules for public consumption of alcoholic beverages, Fifa has guaranteed the sale of alcoholic beverages at the FIFA Fan Festival and licenced venues. But non-alcoholic beers will be found at stadiums.
This not by chance. Among the main sponsors of the 2022 World Cup is Budweiser, a beer brand which will be exclusively sold at the country's Fan Festival, investing US$ 75 million to make its presence felt. If that were not enough, AB InBev will host Fan Festivals in a further six cities around the world, including Rio de Janeiro and São Paulo. Beer for every corner of the world.
Thus, promotions and contests win over other countries and companies associate their brands to idols, as in the case of the beer campaign with Neymar, a player in the Brazilian national team, as its poster boy. The marketing strategy creates a serious risk: to encourage more people to try alcohol, especially youths.
Relaxation for regulatory measures during sporting events is not exclusive to Qatar. In the 2016 Olympic Games, some host cities adapted local legislation, which sometimes restricted the sale and consumption of alcoholic beverages in stadiums, to meet pressure from the beer industry. In 2003, the Brazilian federal law which regulated cigarette advertising at sporting events underwent changes so that the Formula-1 Grand Prix, which would be held in Brazil, could display marketing and advertising of these products, and the rule remained in effect until 2005. Recently, even with strict advertising laws in Mexico, McLaren illegally promoted the Vuse brand on its cars; an electronic cigarette made by British American Tobacco.
In countries where there are no advertising or sponsorship restrictions, tobacco and e-cigarette companies sponsor football teams, as is the case of Paris Saint-German and smaller teams.
Alcohol consumption in Brazil has been increasing among youths. Its harmful use weighs heavily on the burden of disease, as well as being a social and economic burden to society. In Brazil, Covitel data for 2022 reveals that there was a 20.6% increase in abusive alcohol consumption, which is equivalent to five or more doses on the same occasion. Vigitel pointed out, a year earlier, that the harmful use of alcoholic beverages among the general population is 18% (2021), but among Brazilians aged 25 to 34 years old, it stands at 25.5%. On the other hand, Pense (2019) shows that 63.3% of students aged 13 to 17 have already ingested one dose of alcoholic beverage, and among these young people, half confirmed episodes of inebriation and 35% had tasted alcohol before the age of 14.
The WHO provides guidelines for governments with a series of technical policy proposals for economic intervention, launched in 2018, in order to reduce alcohol consumption, summarized by the acronym SAFER (Strengthen, Advance, Facilitate, Enforce, Raise). These include the enforcement of comprehensive bans or restrictions on advertising, sponsorship and promotion of alcoholic beverages. These are aspects of the new PAHO campaign, "Live Better, React", which proposes that decision makers, influencers and the population in general engage to promote public policies capable of controlling and regulating alcohol use. Even though Brazil has made advances with regard to policies related to drunk driving (so what's the point of linking F1 to alcohol consumption?!), legislation still has many gaps vis a vis the promotion of community programs and in price and taxation policies, for example. As the new PAHO campaign preaches, it is necessary to "react" to the enormous pressures of the alcohol industry.
How many more lives will be lost until FIFA acknowledges the harm caused by alcoholic beverages? How many more young people will consume alcoholic beverages until the Federation defines its policies for alcohol-free events?
The hearts of fans need to be healthy in order to withstand the strong emotions provoked by a good game. Their throats need to be healthy to shout and celebrate the winning goal. Fans need a tight hug after a painful defeat. It would be a huge miskick to have alcohol and tobacco filling this vacancy.
---
Technical File
Proofreading and editing: Anna Monteiro
Art: Ronieri Gomes
Monitoring team
Anna Monteiro
Bruna Hassan
Denise Simões
Fabiana Fregona
Laura Cury
Mariana Pinho
Marília Albiero
Sarah Fernandes
Victoria Rabetim
Vitória Moraes